For many people, Halloween is the most anticipated holiday. It's really hard not to love Halloween when we take into consideration all the costumes and candy rush. It's truly something that lifts our spirits.
At that time of the year, all the fun begins. All the stores start to stock up on boxes of candy, props and Halloween costumes. People begin to put up the decoration in their yards and on their houses and balconies.
This is truly a holiday where people from all walks of life celebrate. People of all ages enjoy, kids go from door to door for candy while teens throw house parties.
Nowadays Halloween is free from all the bad, negative things which are linked with the holiday. As a matter of fact, the best thing about this event is not only the games, costumes and sweet treats it's that it brings people together. Families and friends come together to have fun and play games.
Another way to lift people's spirits during this holiday is to crack jokes and make them laugh.
A great form of humor and a way to bring a smile to everyone's face are puns, and when it comes to Halloween it does not matter how good, cheesy, hilarious or creepy they are people will surely laugh.
One platform which blows upon this holiday is Instagram. It's like that since people want to post videos and photos of their costumes, parties, decorations, candy and the way they celebrate.
With Instagram comes captions, and here is where puns take place. They are really trendy to use under videos and photos.
So, if you are looking for great Halloween puns to use on Instagram or simply a joke to crack on this special holiday you are in the right place.
Below you will see a list that contains different puns great for Halloween.
85 Halloween Puns for Your Spooky Taste
Hilarious Halloween Puns

Most ghosts are lonely because they have no-body to love and hold.
Ghosts go on vacation in Mali-boo.
Ghosts are great as cheerleaders since they have high spirits.
Why do ghosts go to the bar? For the boos.
What happens when you drop a pumpkin? – Squash.
Ghosts love elevators because it lifts their spirits.
Ghosts who haunt hotels are called an inn specter.
I am dressed as a wizard because that way I can get what I wand.
Halloween Puns for Instagram Captions

Getting kissed by a vampire is a pain in the neck.
I come to bars for the boos.
I am here for the boos.
Demons are a girl's best friend.
You've caught me in your web.
Hey, boo!
Eye love you!
Batty about you!
Let's get this party startled!
You are my (blood) type!
Putting the 'boo' in booty.
Let's have some skele-fun!
Cheers witches!
Give me all the boos!
Drink and be scary.
Keep calm and carry a wand!
Wicked awesome!
Basic witch.
Me and my ghoul friends.
Spooktacular.
Resting witch face.
Bow down, witches!
Hey, boo-tiful!
Trick or treat yo'self!
Witch better have my candy!
Creep it real!
Ghouls just want to have fun!
It's going to be a crazy Halloween – I can feel it in my bones!
Witch-ing you a Happy Halloween!
I just took a DNA test; turns out I am 100 percent that witch!
Let's have some skele-fun!
You've ghost to be kidding me.
Just creeping it real this Halloween!
A scare is born!
Give something to pumpking about!
Too cute to spook!
Trick or tequila!
Bow-down to your Hallow-queen!
I've got every trick or treat in the book!
You look boo-tiful today!
Bring your own boos!
Next: 50 purr-fect Cat Puns to share with your fur-iends
Halloween Candy Puns

Love at first bite!
A bag of trick and treats!
I did some exorcise to prepare for this candy!
I am not playing Twix when I say I adore this event!
This will come in candy.
The Halloween candy is spook-tacular.
Twix or treat!
Bone appétit!
Your costume is so real, it's un-candy!
Trick or treat yourself to some candy!
Stop goblin up all the candy!
Halloween Ghost Puns

Boo-yah!
Do you know which dessert ghosts love? I-scream.
Ghosts go shopping at a boo-tique.
Time to boo-gie!
We look fa-boo-lous!
Ghosts just wanna have fun!
We're here for the boos!
Halloween Witch Puns
If the broom fits, fly it.
What's up witches?
You say I am a witch like it's a bad thing.
Witchful thinking.
Keep calm and fly the broom.
I've got you under my spell.
Witch-ing you a Happy Halloween!
Spelling is a favorite subject in school for every witch.
Mixed Halloween Puns
Feeling witchy.
I will gourd this candy with my life!
She's the pumpkin of my eye!
Haunting my ex!
Let's give them pumpkin to talk about!
Vampires are easy to deceive since they are suckers!
Sadly, I am too cute to spook!
Hallow-queen!
Some folks have no guts.
What do people say when they escape a vampire? – So long, sucker!
Next: 30 Ghost Puns to Make Your Friends Laugh all Through the Night!
To Sum Up
You will have to agree that the above-mentioned puns are really creative and great to use for Instagram captions and to crack some jokes. So, out of all of them which one is your favorite?
More Puns You'll Love:
80 Dog Puns | 50 Cat Puns
80 Fish Puns | 80 Food Puns
83 Coffee Puns | 95 Bone Puns
60 Wine Puns | 100 Plant Puns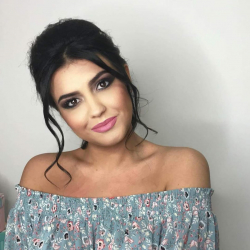 Latest posts by Nadica Murdzeva
(see all)
Was this article helpful?