From Grammy Awards to the Versace runway, we have seen Dua Lipa flourish the success and be the one. If you are one of her 85.6 million Instagram followers, you have most likely seen the British vocalist boast her multiple tattoos: each contributing to her persona. Meaning 'love' in Albanian, Dua has faced much success since the launch of her debut album in 2017: inspiring the addition of many tattoos along the way to immortalize her success, background, and experiences. Here is a breakdown of some of her most prominent ink-works:
1. 'SUNNY HILL'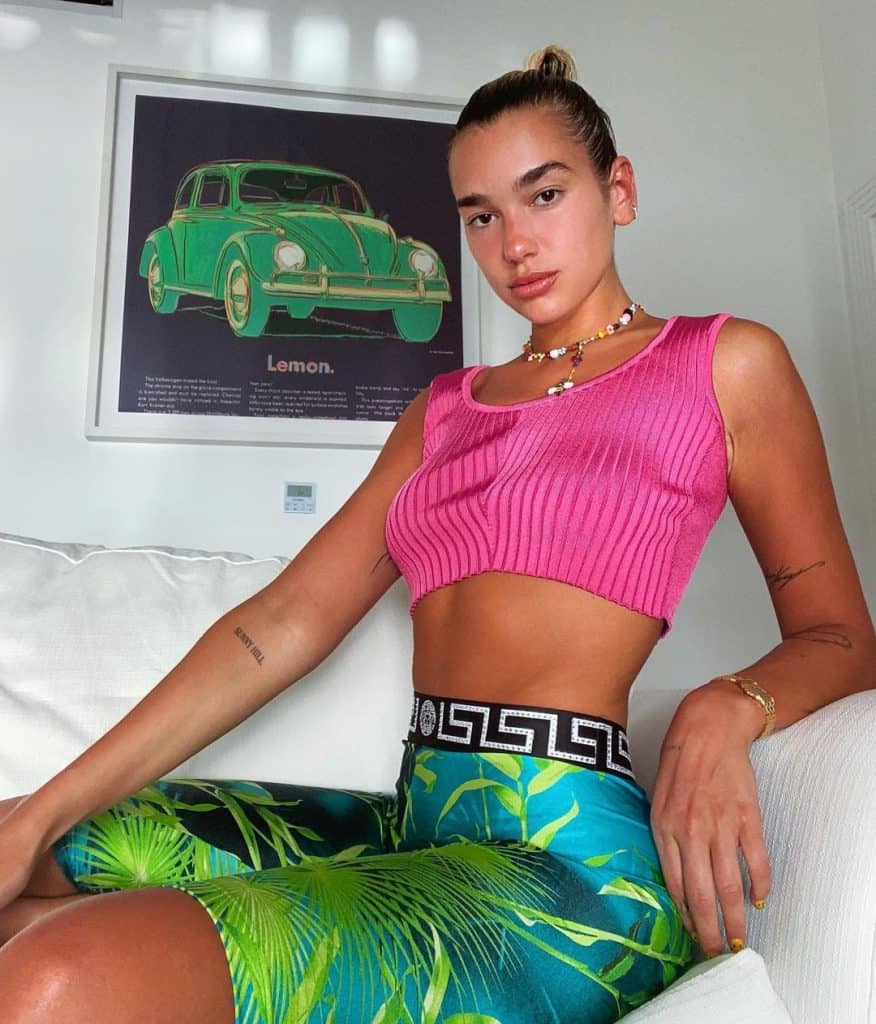 Although raised in London until the age of 11, and returning to the city when she was 15, Dua Lipa is vocal about her Kosovan heritage. Her first tattoo from 2015 emulates her parents' hometown: the Bregu I Diellit region of Pristina: the nation's capital, which, when translated to English, means 'sunny hill'. Lipa and her father, Dukagjin are also founders of the Sunnyhill festival, held annually in Pristina, as well as the Sunnyhill foundation which aims to 'give a helping hand to our community'.
2. 'THIS MEANS NOTHING'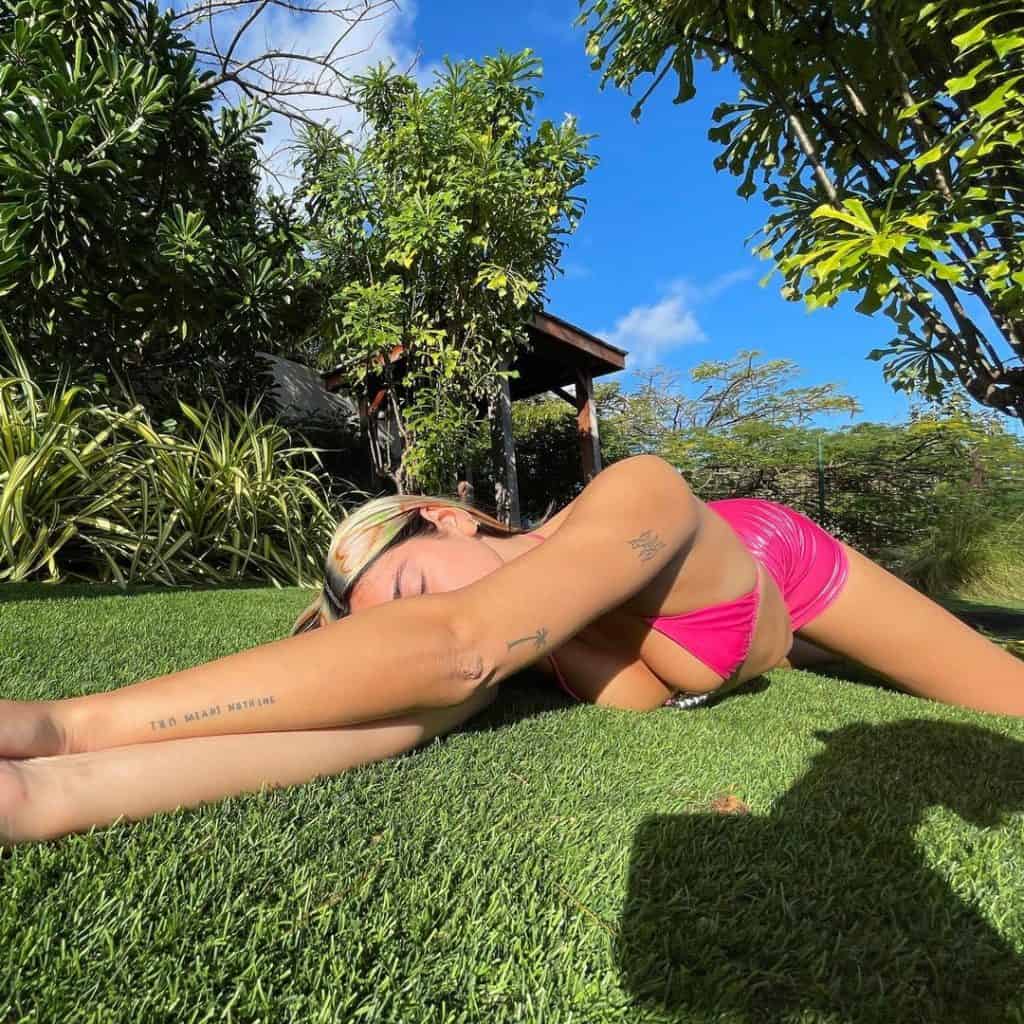 As the tattoo reads – it quite literally means nothing. There is no specific reason behind this tattoo besides its ironic lack of definition. Lipa's tattoo is written in the handwriting of her frequent tattoo artist, 'Sean from Texas'. This was the first of many of the tattoos the Los Angeles based artist has completed for Lipa.
3. FINGER TATTOOS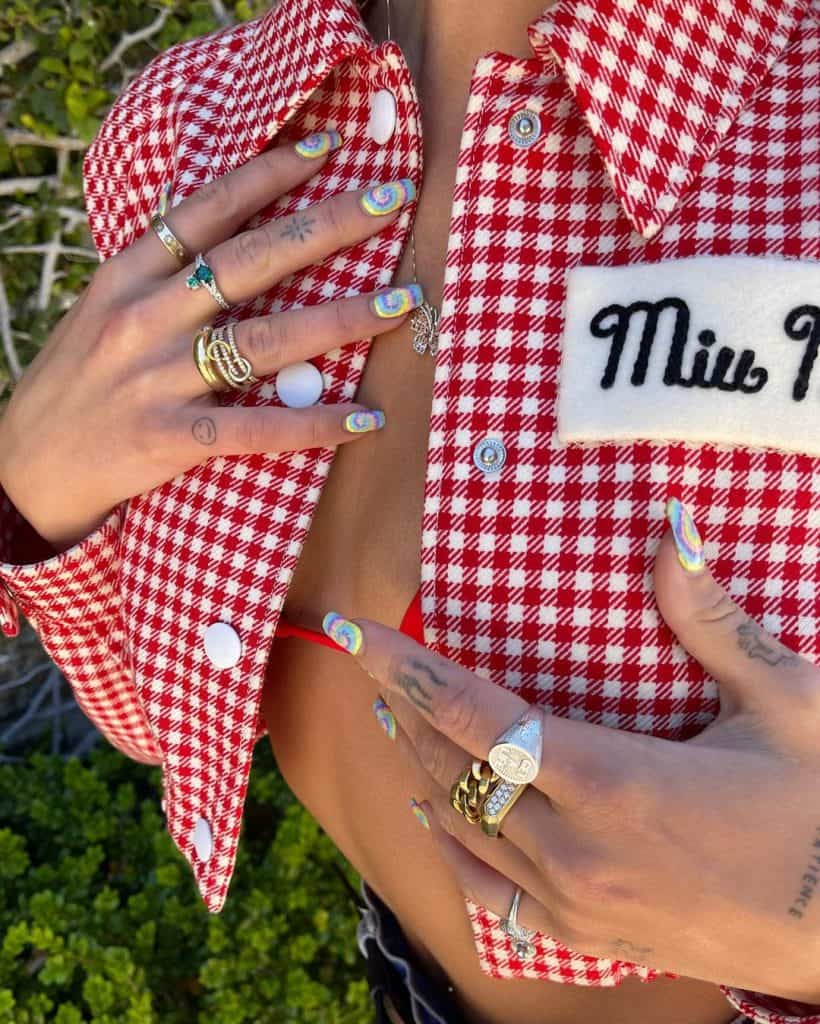 Amongst Lipa's tattoo collection are a selection of finger tattoos, including a smiley face on her right pinky and a flame on her left knuckle. Her middle finger also sports an eye-point star which was in fact a poke-and-stick tattoo by the wife of her drummer, Amy Bowerman.
4. DANCING MEN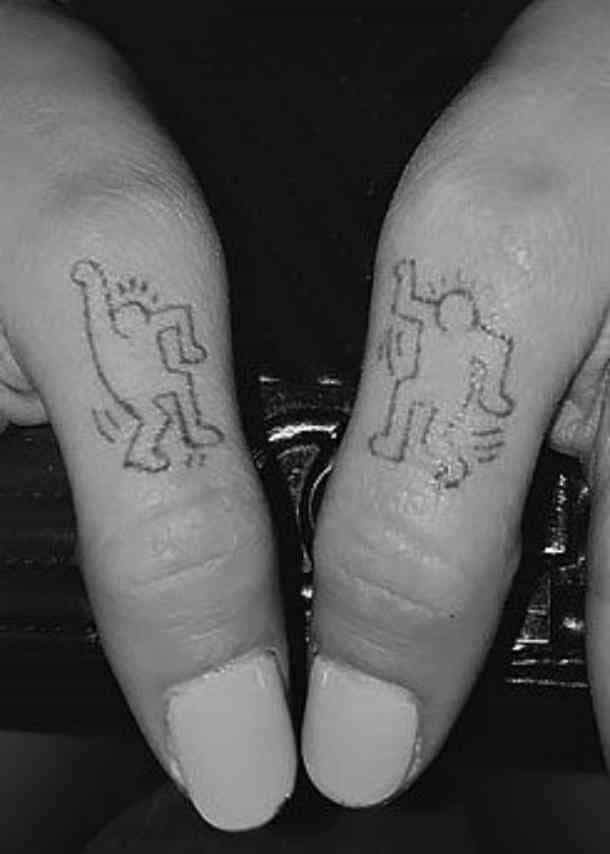 The collection of finger tattoos also extend to Lipa's thumbs, which boast a pair of matching tattoos. Each thumb is accessorised with one of graffiti artist Keith Haring's 'dancing men'. Prevalent for his street art in 1980's New York, Haring's infamous dancing men figures are instantly recognisable, even when on a popstar's thumbs.
5. THE ALL-KNOWING EYE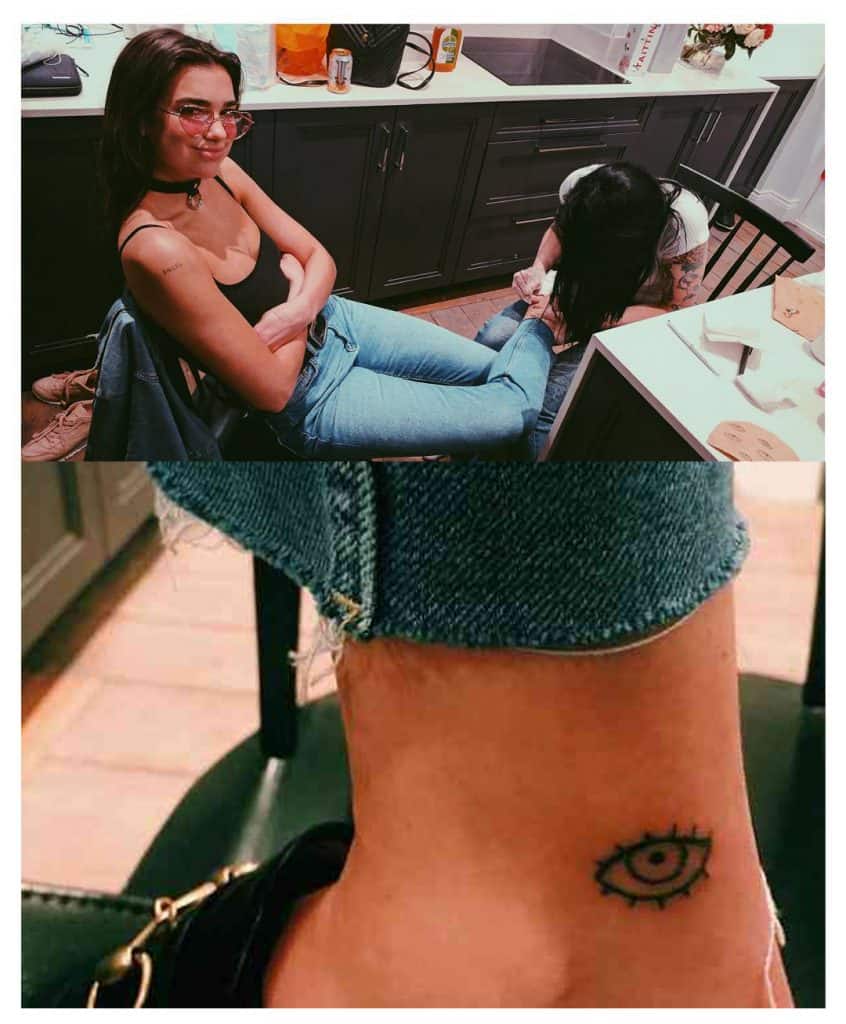 The singer's second poke-and-stick tattoo comes in the form of an all-knowing eye on her right ankle. Again, crafted by Amy Bowerman, the provision of this tattoo was documented via Instagram – where Lipa can be seen having the tattoo poked in her kitchen.
6. ANGEL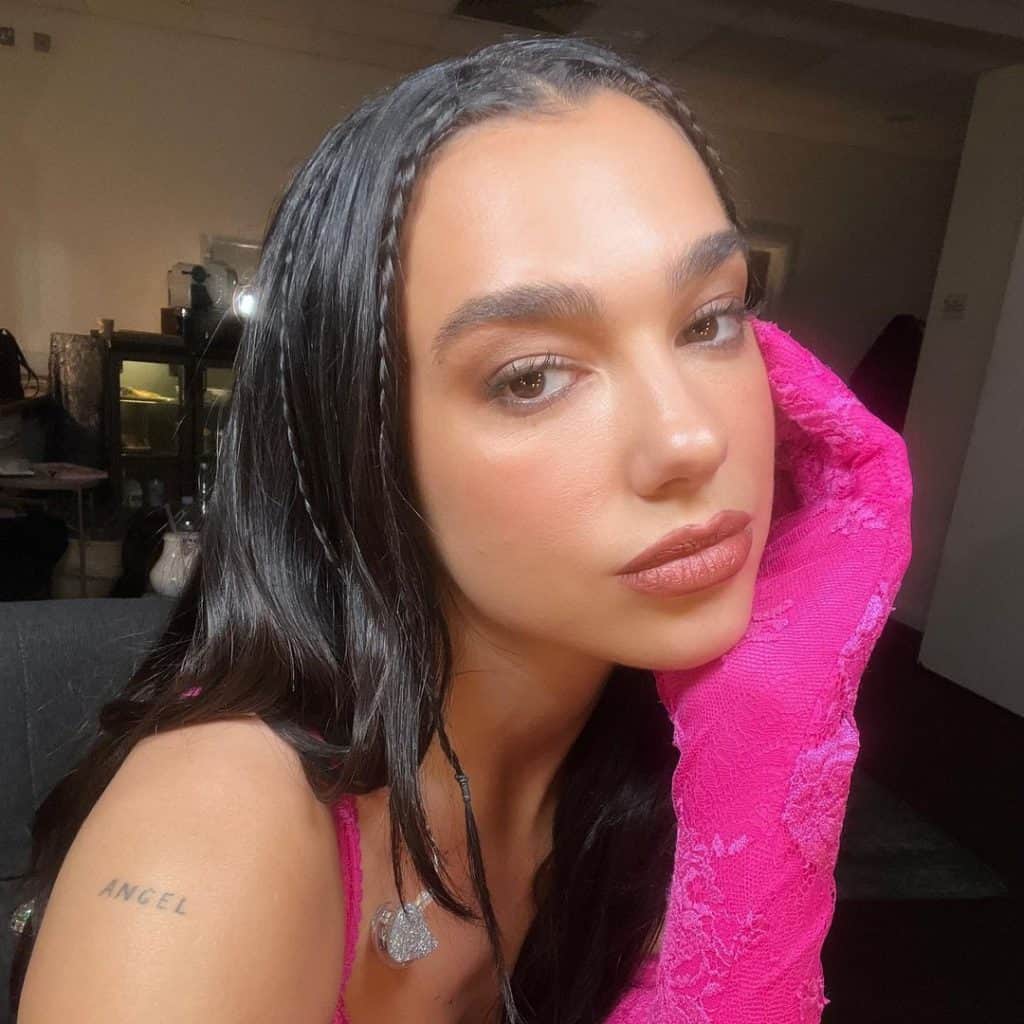 Another tattoo from Lipa's frequent collaborator, Sean from Texas, is the word 'angel', written in capital letters across her right shoulder.
7. PATIENCE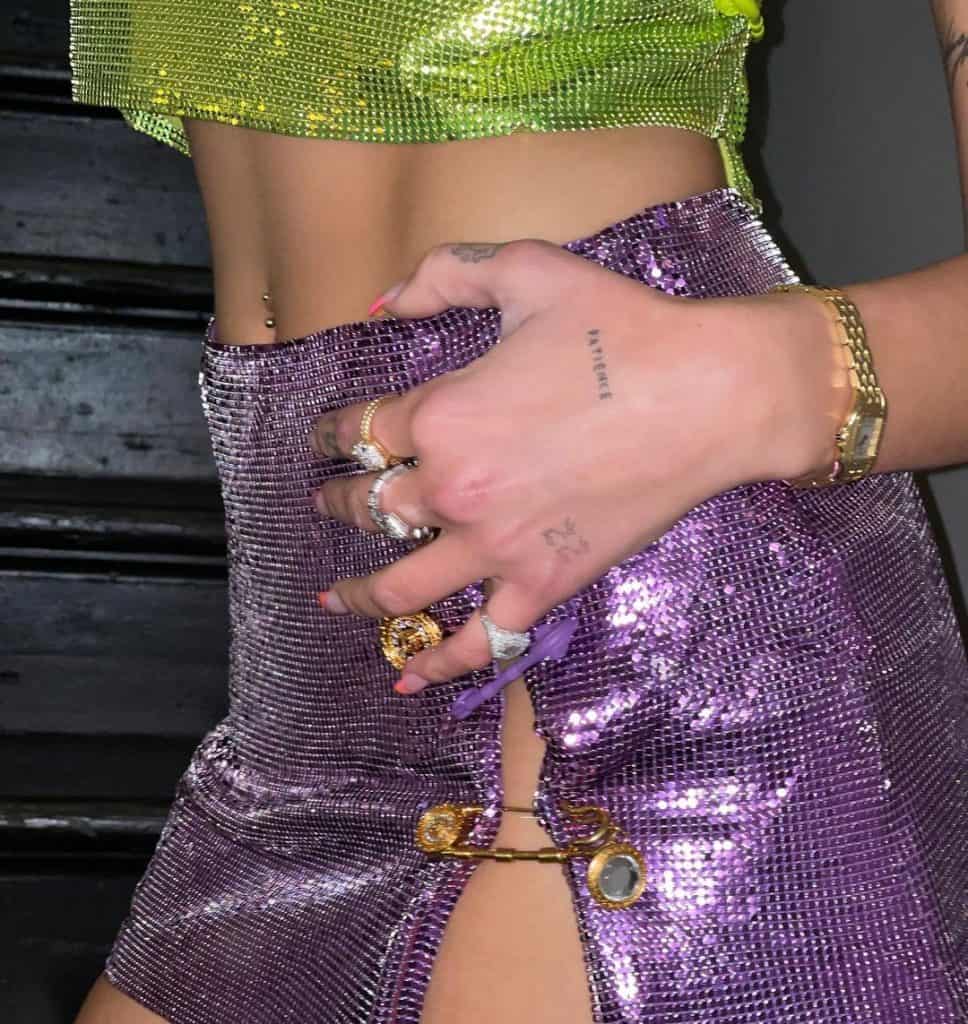 'Patience is key' – wrote Dua on an Instagram post in April 2017. Written across her left hand in black typography, this tattoo's prominent positioning highlights its significance as a key moral of Lipa's.
8. MUM + DAD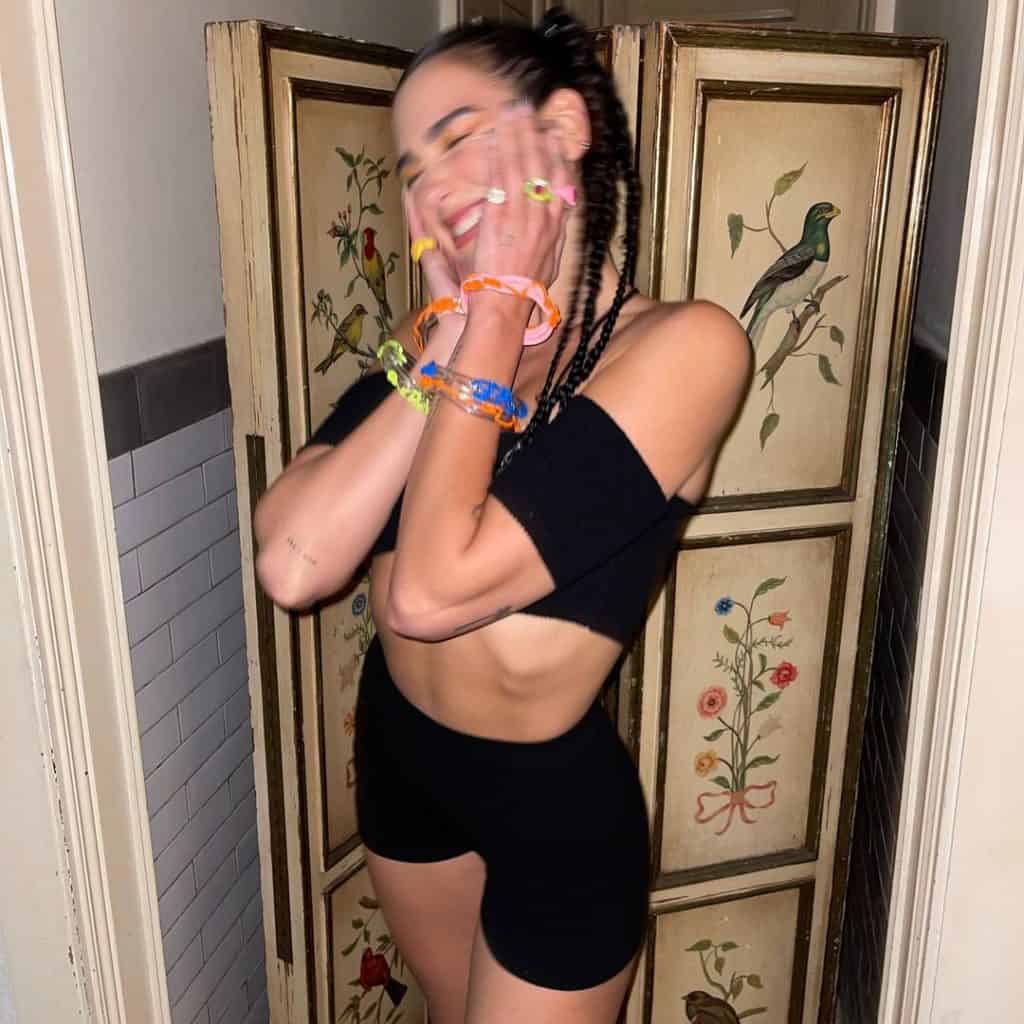 It's no secret that Lipa holds a close relationship with her family – as suggested by her homage to them beneath her right elbow. Dua cites her father as one of her musical influences growing up, who was the lead singer of Kosovan rock band 'Oda'.
9. SIBLINGS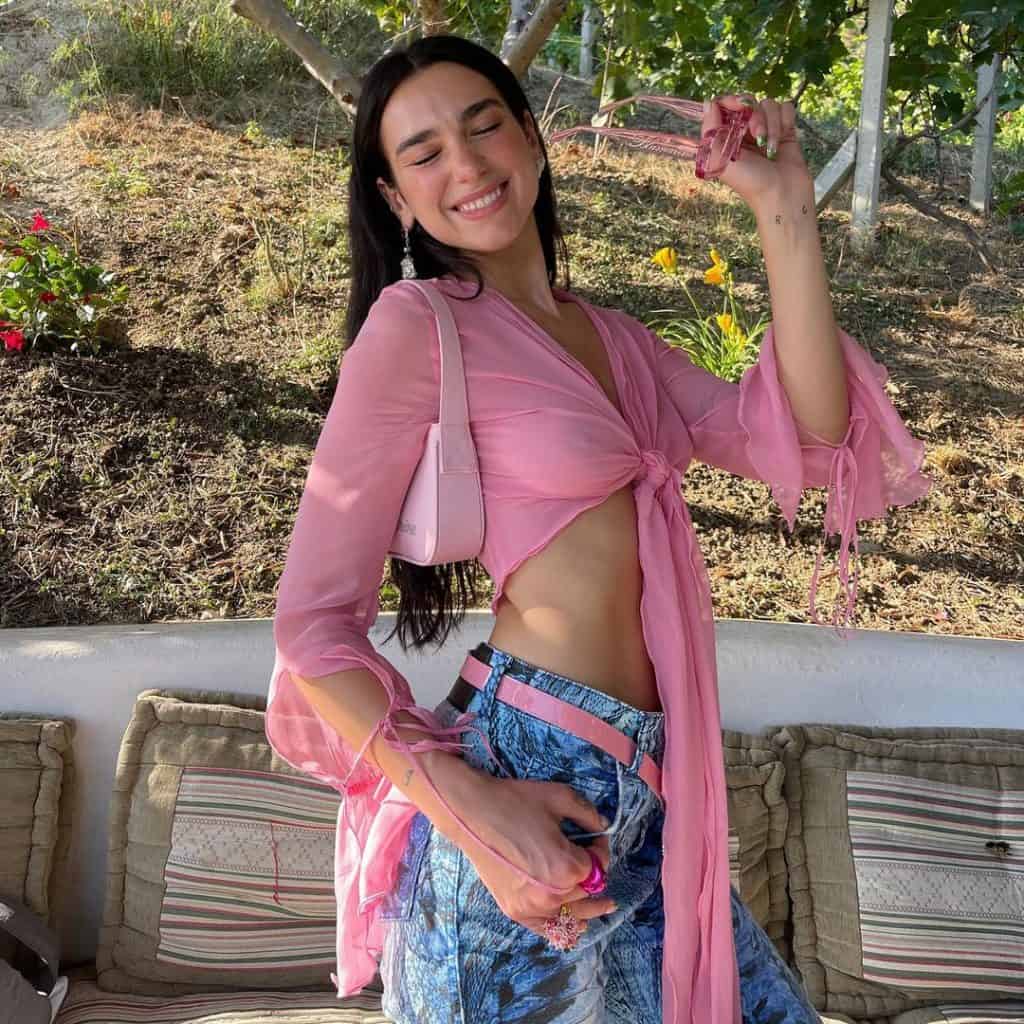 Homage to family doesn't stop at Lipa's parents – she also has tattoos dedicated to her siblings too. The initials 'R' and 'G' are written in the inside Dua's left wrist to honour her younger siblings Rina and Gjin.
10. ROSE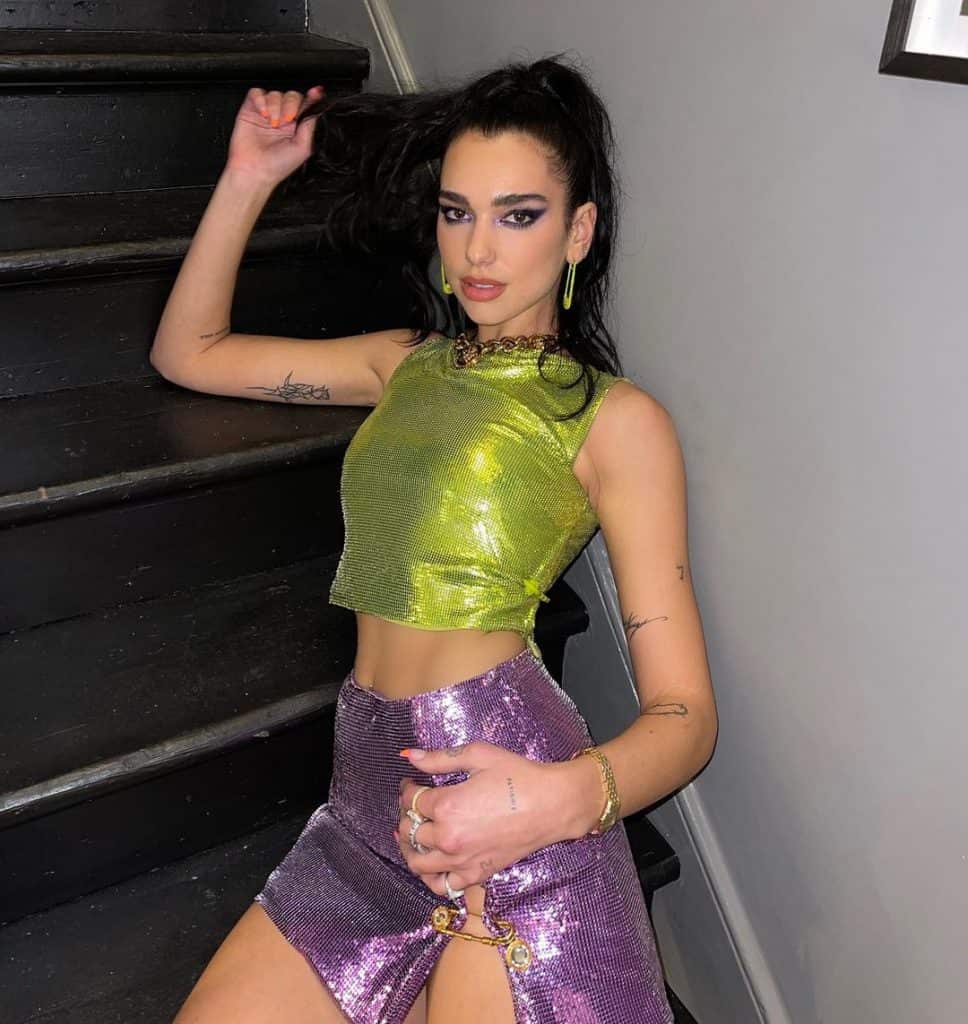 An intricate rose design lies on Lipa's right bicep. This tattoo was done by Madame Buraka at '2AM in Paris', according to Dua's Instagram.
11. BARBED WIRE HEART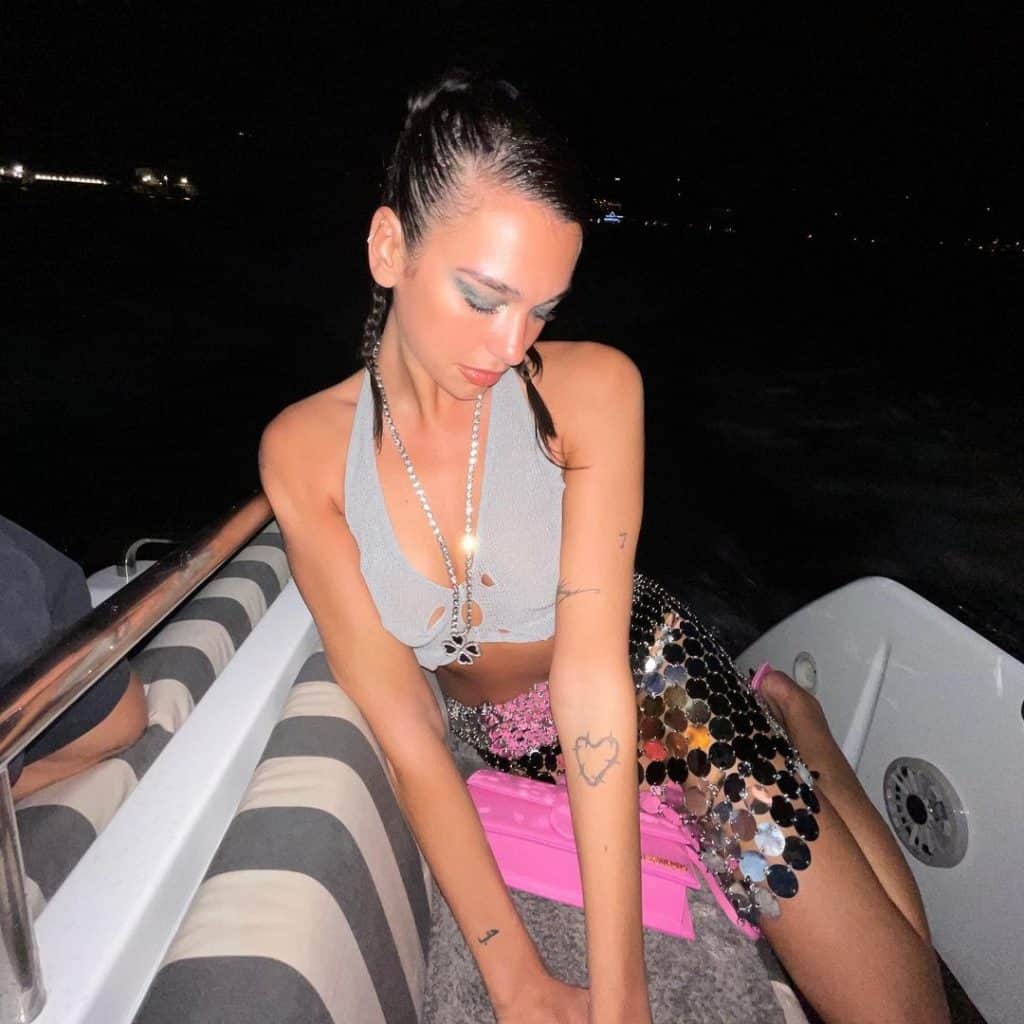 Perhaps the most well-renowned contribution of Sean from Texas to Lipa's extensive tattoo collection is the heart-shaped barbed wire lying on her left forearm. A mix between endearing and rebellion, this encapsulates Lipa's persona within the music industry and beyond.
12. PALM TREE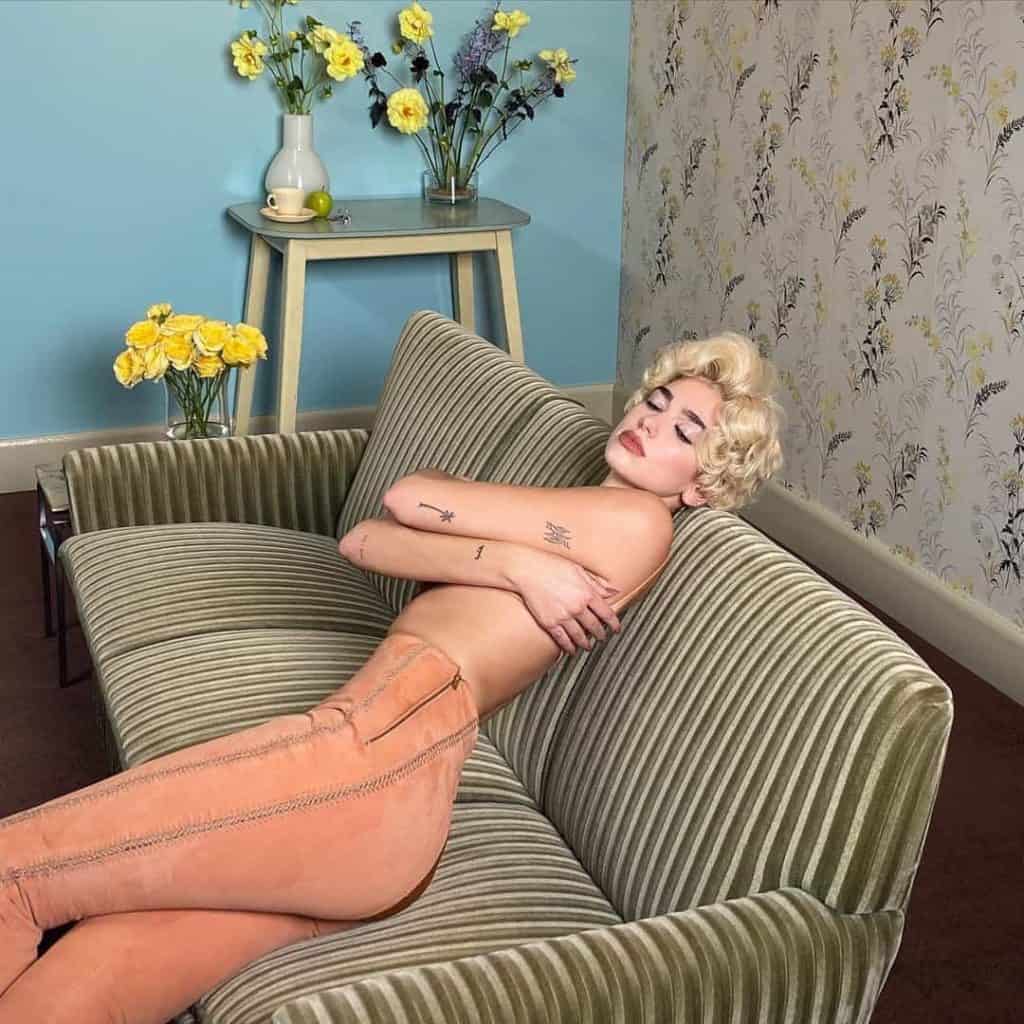 On the back of her left arm, this quite simply plays an artistic homage to Los Angeles.
13. 245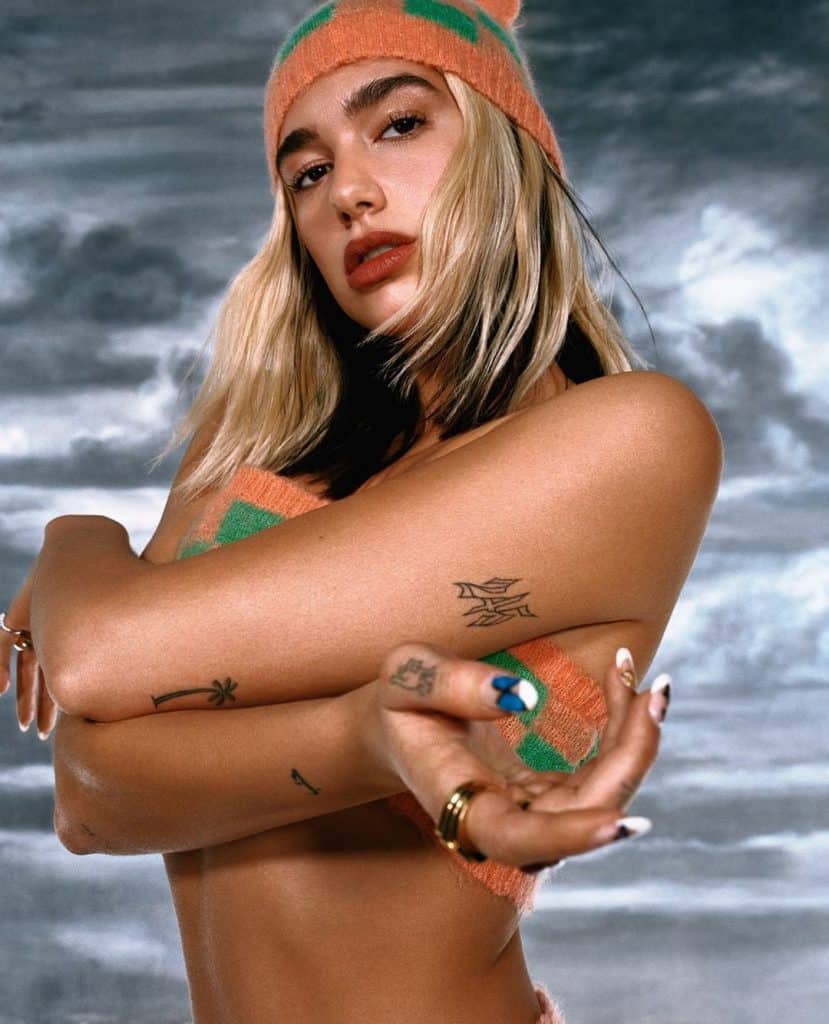 Above the palm tree lies a graffiti styled articulation of the number '245'. This is representative of the amount of shows the star performed during her debut tour in 2018. This tattoo was also inked on other members of her touring team.
14. FUTURE NOSTALGIA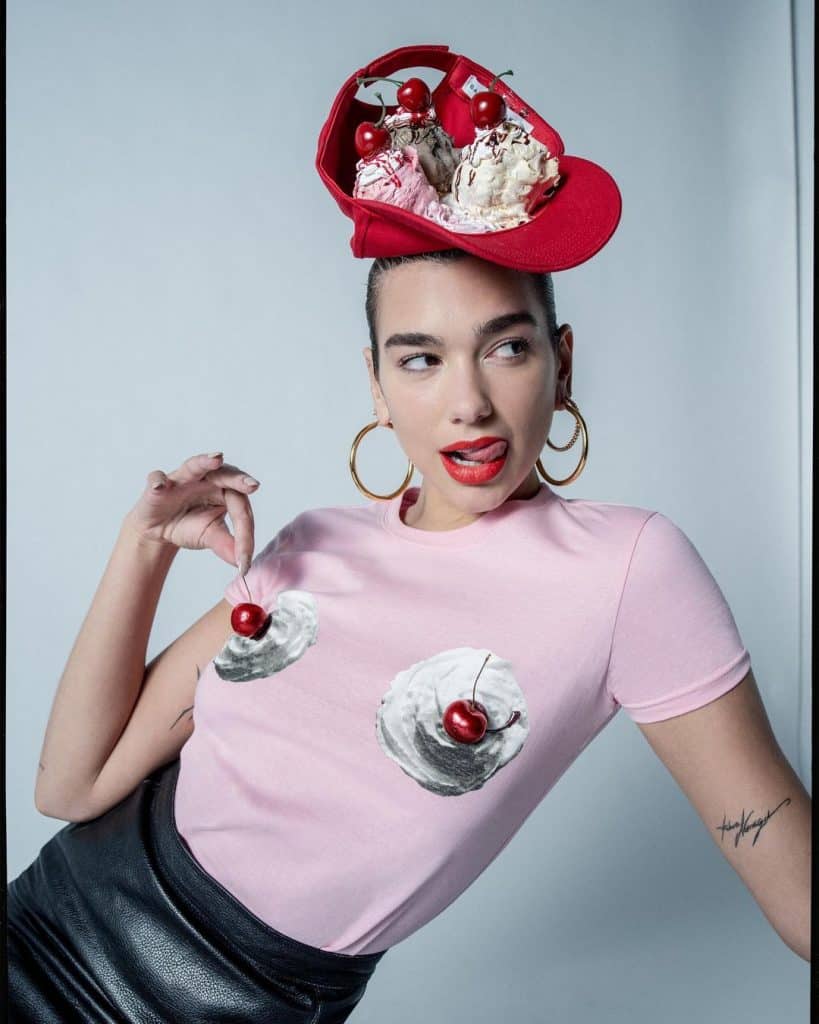 This tattoo speaks for itself: the title and font of her second album 'Future Nostalgia'. Lipa used this tattoo to reveal the title of the award-winning album to her Instagram followers in December 2019, writing: 'swipe for album title' as her caption alongside images of the tattoo.
15. LOVE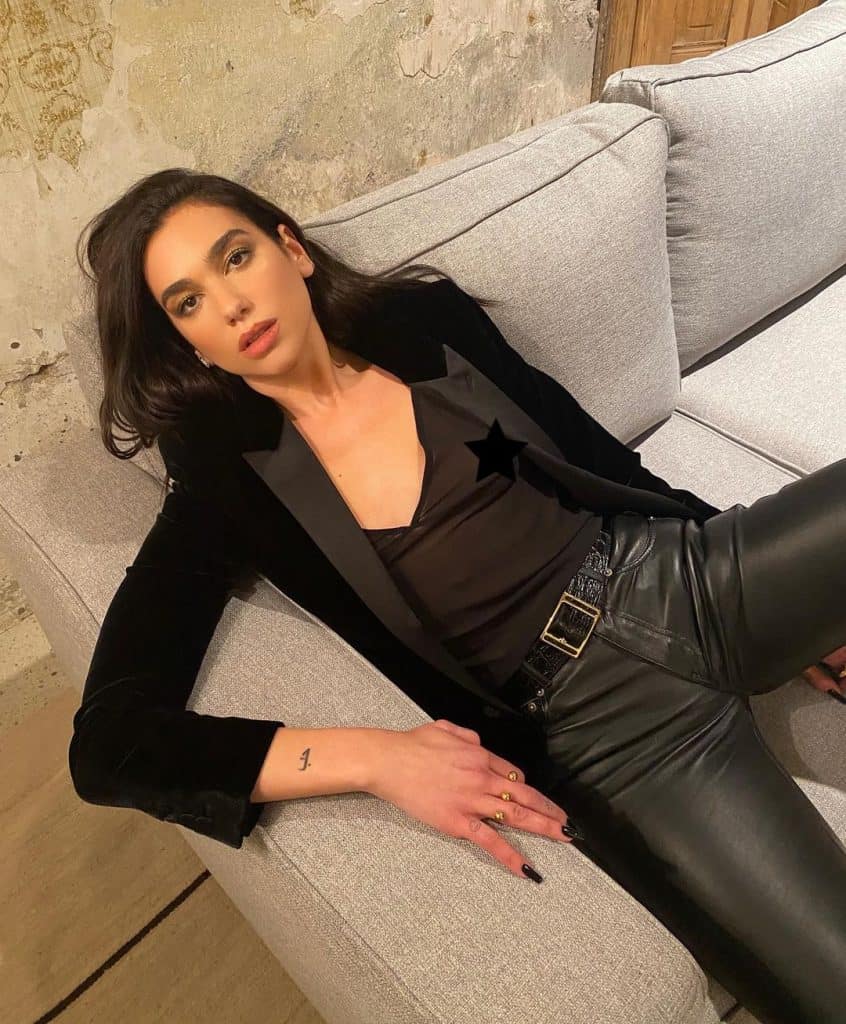 A newer tattoo from Lipa's collection is the word 'love', written in Arabic just above her right wrist.
16. NUMBER 7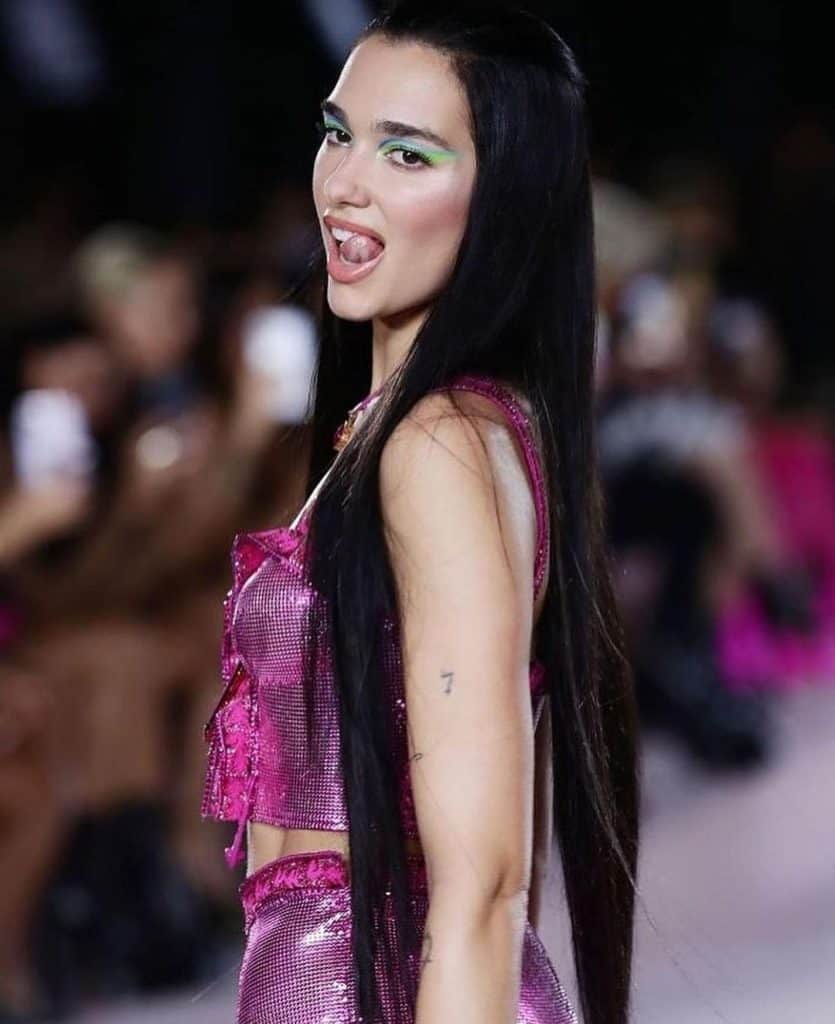 Dua's most recent tattoo is the number 7 on her bicep – the meaning of which is unknown. There is speculation amongst fans that is could be inspired by the K-pop band BTS.

Latest posts by Amy Deller
(see all)
Was this article helpful?