With number 1 hits and the first Grammy Award won by a solo female artist, Cardi B has established herself as musical royalty. Amongst on-stage apologies from her on-again-off-again husband to a number 1 hit collaboration with Maroon 5, she is a name on everyone's lips. From her music videos to her red-carpet looks, her tattoos have become part of her looks. Here, we break down what each of them are and what they mean…
Samuel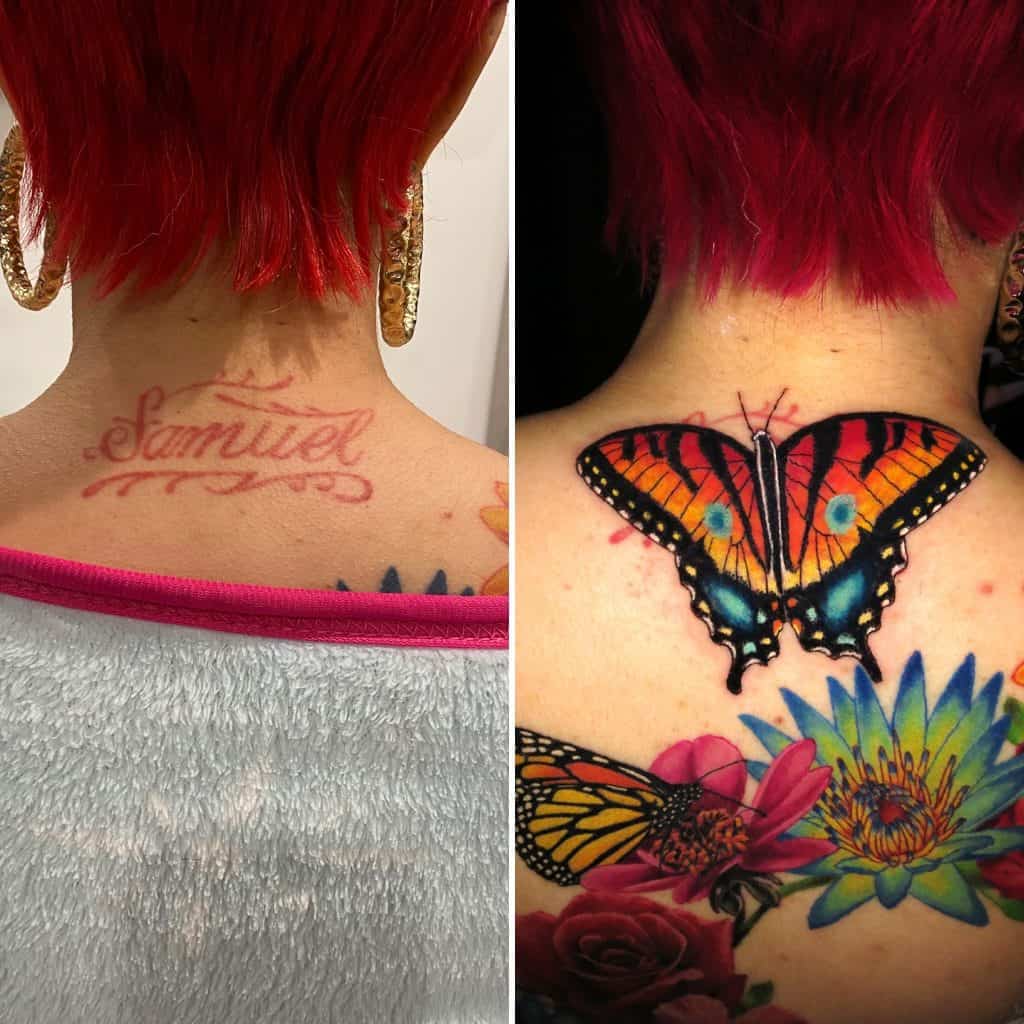 In a similar red writing to that of Tommy G, another man is immortalised on Cardi B – this time on the back of her neck. Although the mysterious Samuel is unbeknownst to fans of the artist, it is broadly assumed that this is a homage to one of her ex-lovers. Unlike Tommy G, however, Samuel's name has since been covered up by a colourful butterfly, although, if you look carefully, the edges of the red letters can still be seen.
Offset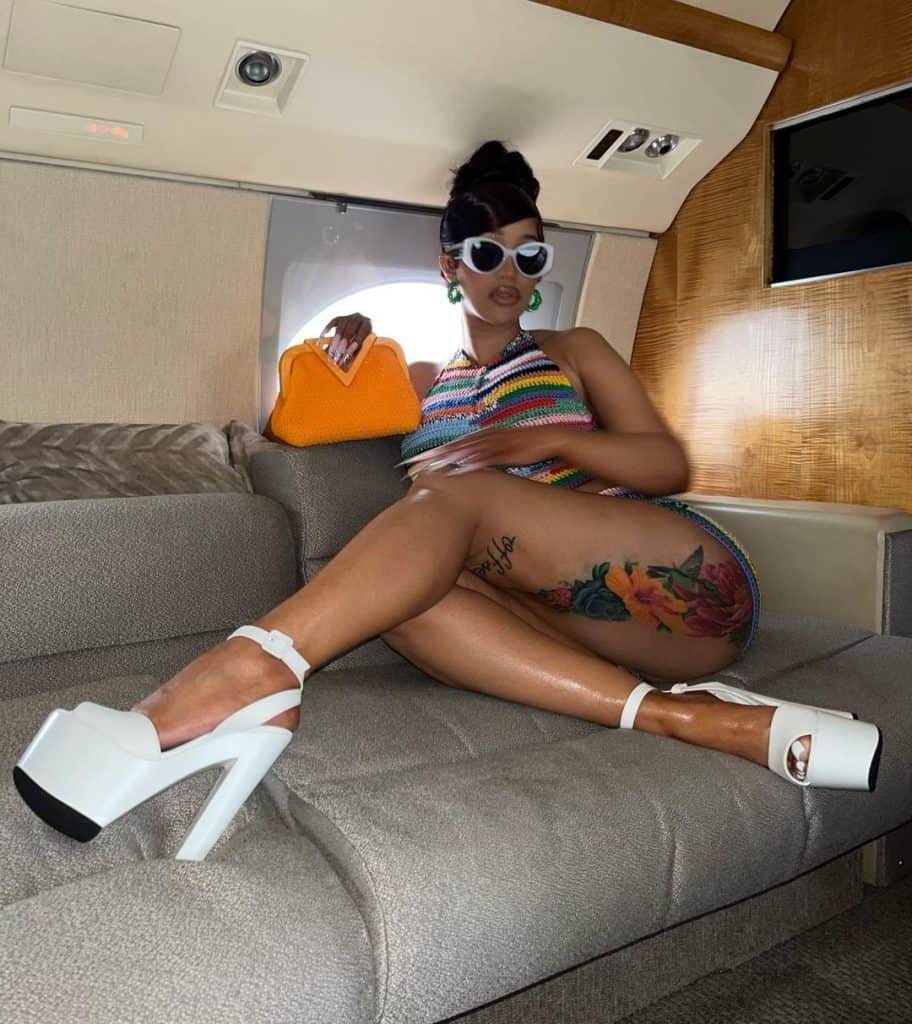 Source: PopsugarClearly, the tattooing of names are a love language for Cardi B, who also has her husband Offset's name tattooed on her left thigh. This time, the tattoo is in black, although still remains to be in the signature scrawling cursive, matching those of her exes' names. Although this relationship has been a well-documented, tumultuous saga, seeing an elopement in 2017, as well as on-again-off-again headlines in between and the arrival of two children together, it is fair to say that this tattoo is a small piece of the puzzle.
Hennessy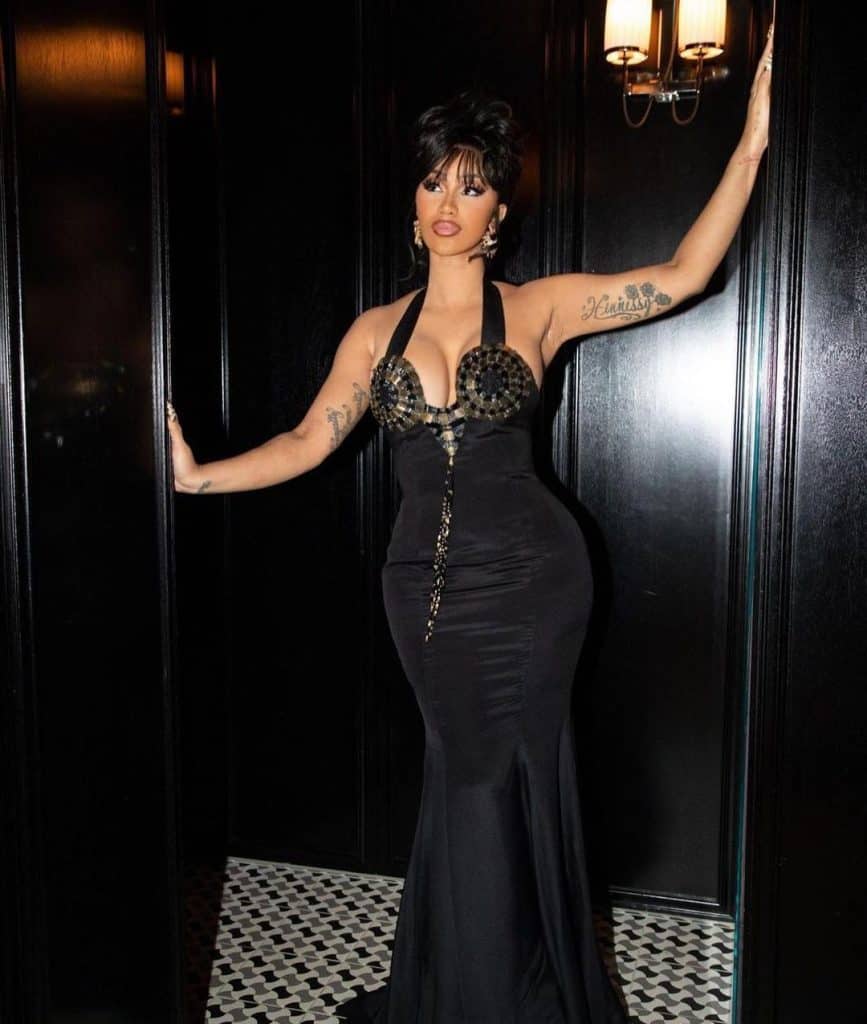 Alongside her lovers comes the name of Cardi B's sister: Hennessy, who's name is written largely inside her left bicep, embellished with 3 roses. It is Hennessy's name which fuelled the establishment of the stage name 'Cardi B', where the rapper was nicknamed 'Bacardi' to match her sister's alcohol namesake. Although Bacardi legally prevented this name being used in a professional capacity, it is broadly speculated that this is where the stage name 'Cardi B' originated from.
Belckis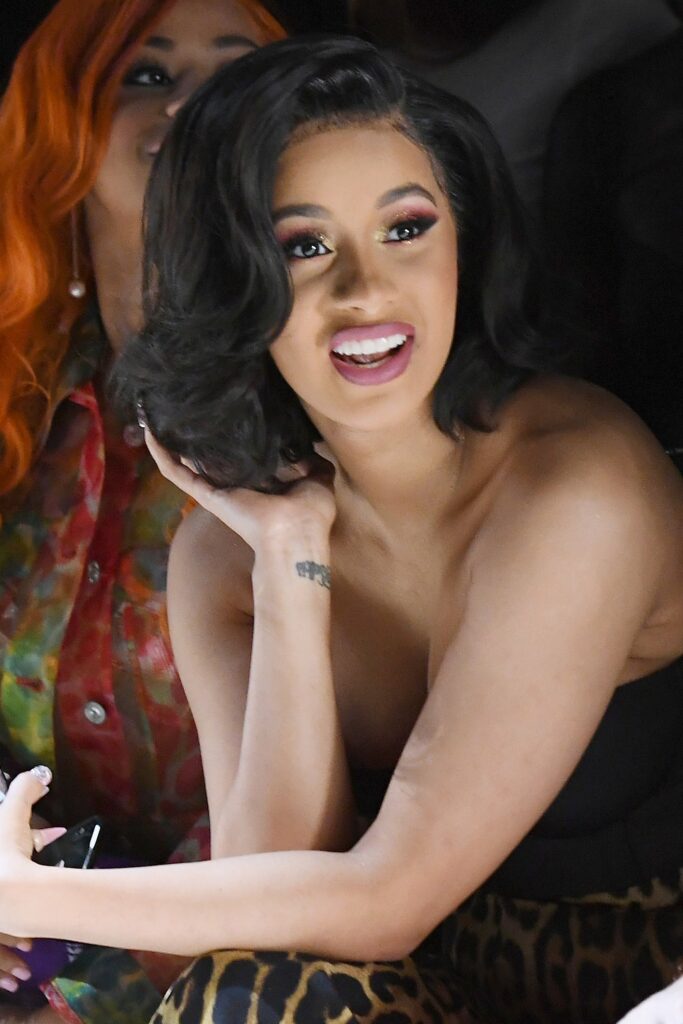 The Bronx-raised artist's craze for name tattoos also extends into the scope of self-love, where 'Belkis' is inked on her right wrist, again, in black writing. This is likely to be an abbreviated version of her birth name: Belcalis.
Loyalty over royalty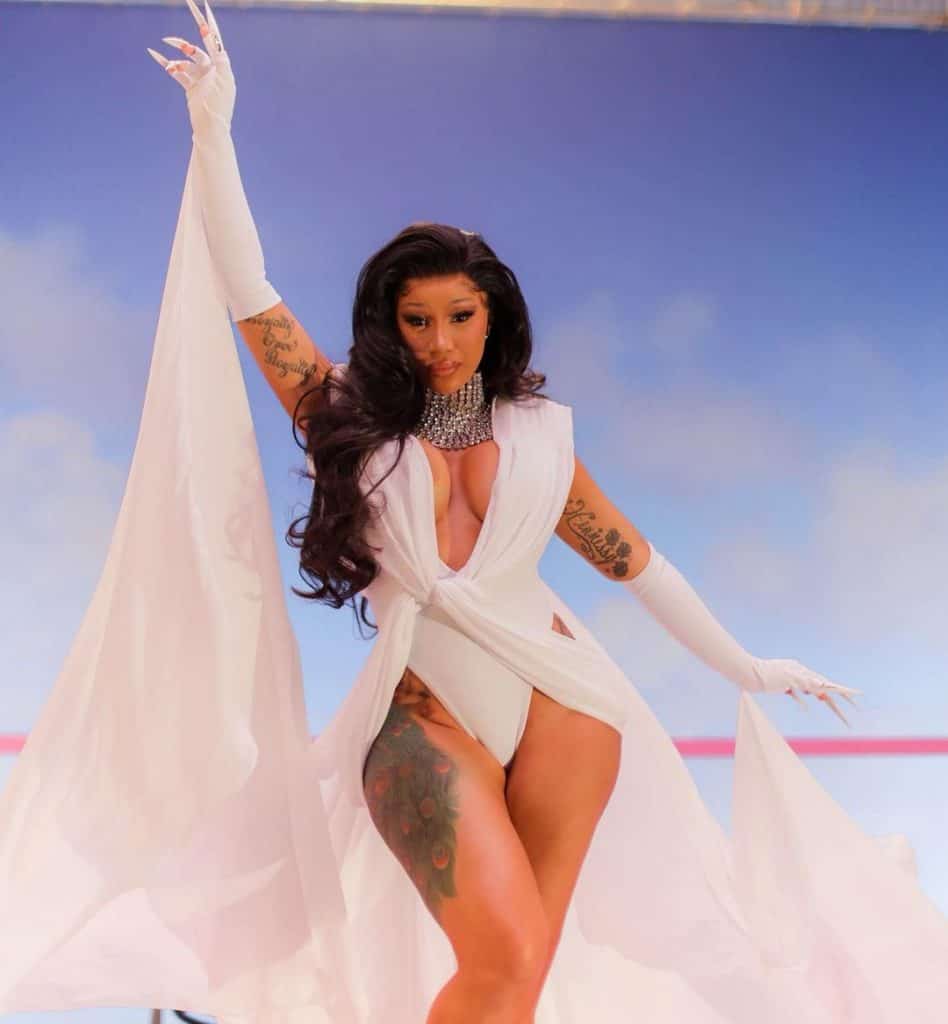 This mantra is inked in her continuous cursive in black on the inside of the Yellow Bodak singer's right bicep. The specific meaning is unknown, although it can be said that the phrase is largely on-brand with her Bronx roots and honest lyrics.
I love you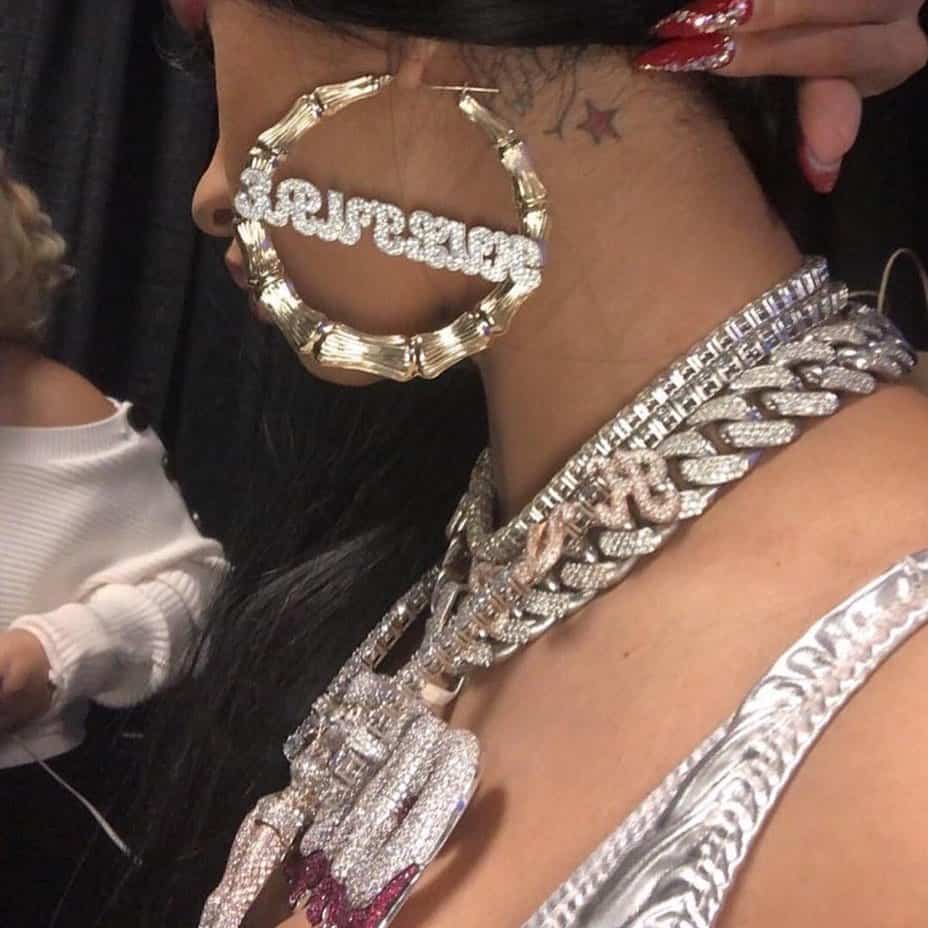 Behind her right ear are the symbols for 'I love you', marked through American sign language gestures. This is embellished with a small red star.
Cheetah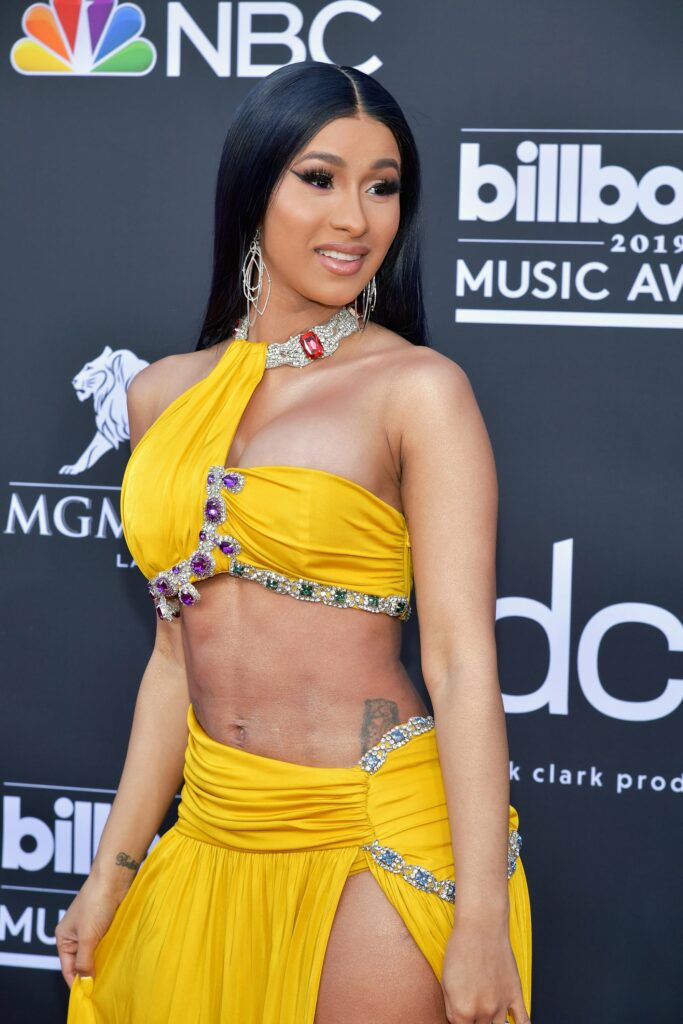 Grazing the top of Cardi B's left hip is a cheetah, sitting upright and gallantly. The significance of this is unknown, although her 2020 song 'WAP', featuring Megan Thee Stallion sees the rapper pose provocatively in a cheetah print outfit.
Peacock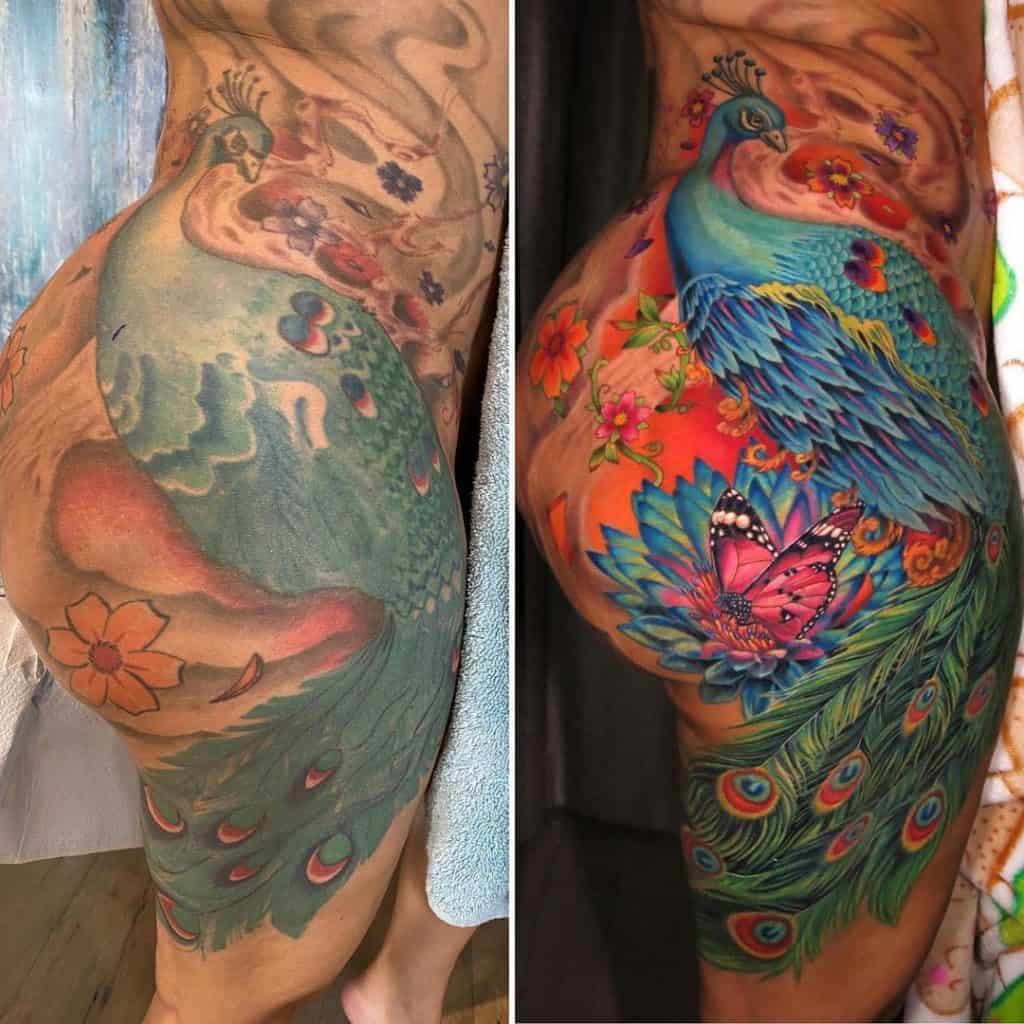 Perhaps the most prominent tattoo of Cardi B's collection is the peacock she has inked, spanning from her right hip all the way down to her knee. Unlike all of her written tattoos, in either black or red, this tattoo consists of a vibrant colour palette. This was originally tattooed in 2010, therefore seeing the colors begin to fade, so was topped up in 2020 by Californian tattoo artist, Jamie Schene.
Flowers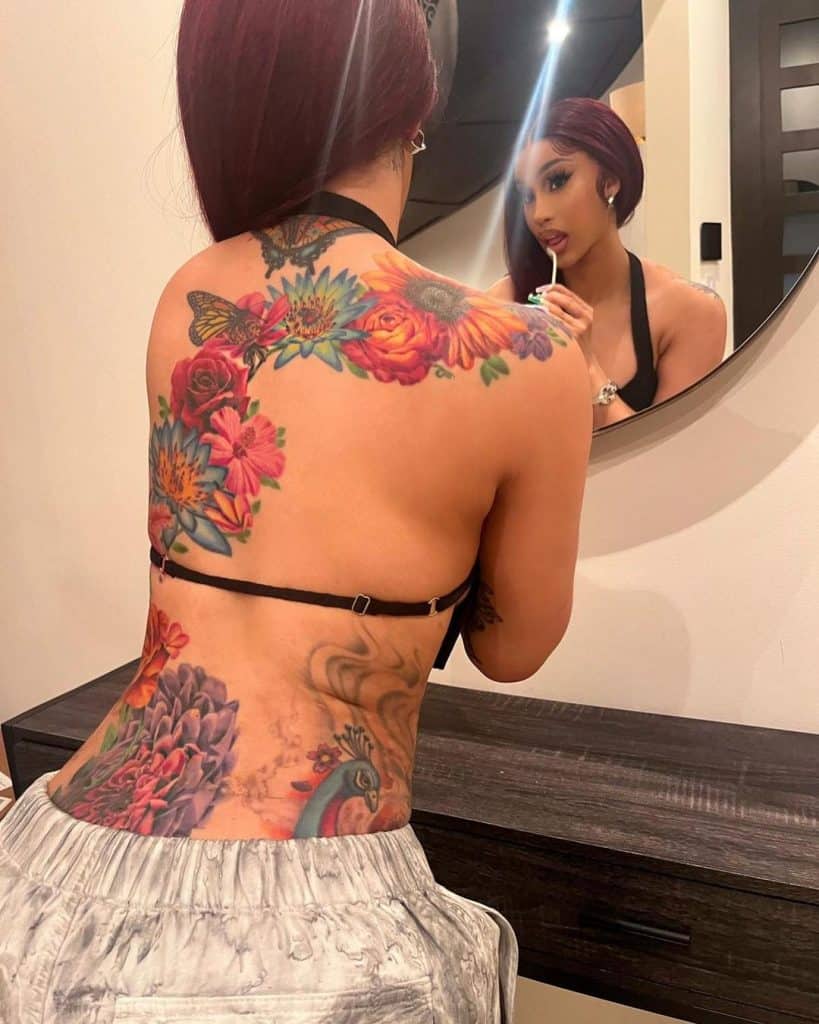 Competing with the peacock in scale and vibrancy are the flowers and butterflies which bloom from the top of the rapper's back down to her left thigh. This was another work of Jamie Schene's, which, according to Cardi's Instagram caption when unveiling the tattoo: 'took [her] several months'.
Tommy G
On the inside of her right wrist in a red scrawling cursive, the Grammy-winning rapper has the name of her ex-boyfriend Tommy G. During her stint on the reality show 'Love and Hip-Hop', Cardi B's relationship with co-star Tommy G was well-documented. Although they parted ways in 2016, his name still bears a permanent standing with his ex-girlfriend, who still has his name written on her, although it is now somewhat faded.

Latest posts by Amy Deller
(see all)
Was this article helpful?